Automated client emails and texts
You didn't go into accountancy to chase clients, write the same emails again and again or to keep track of deadlines. So let AM do it for you.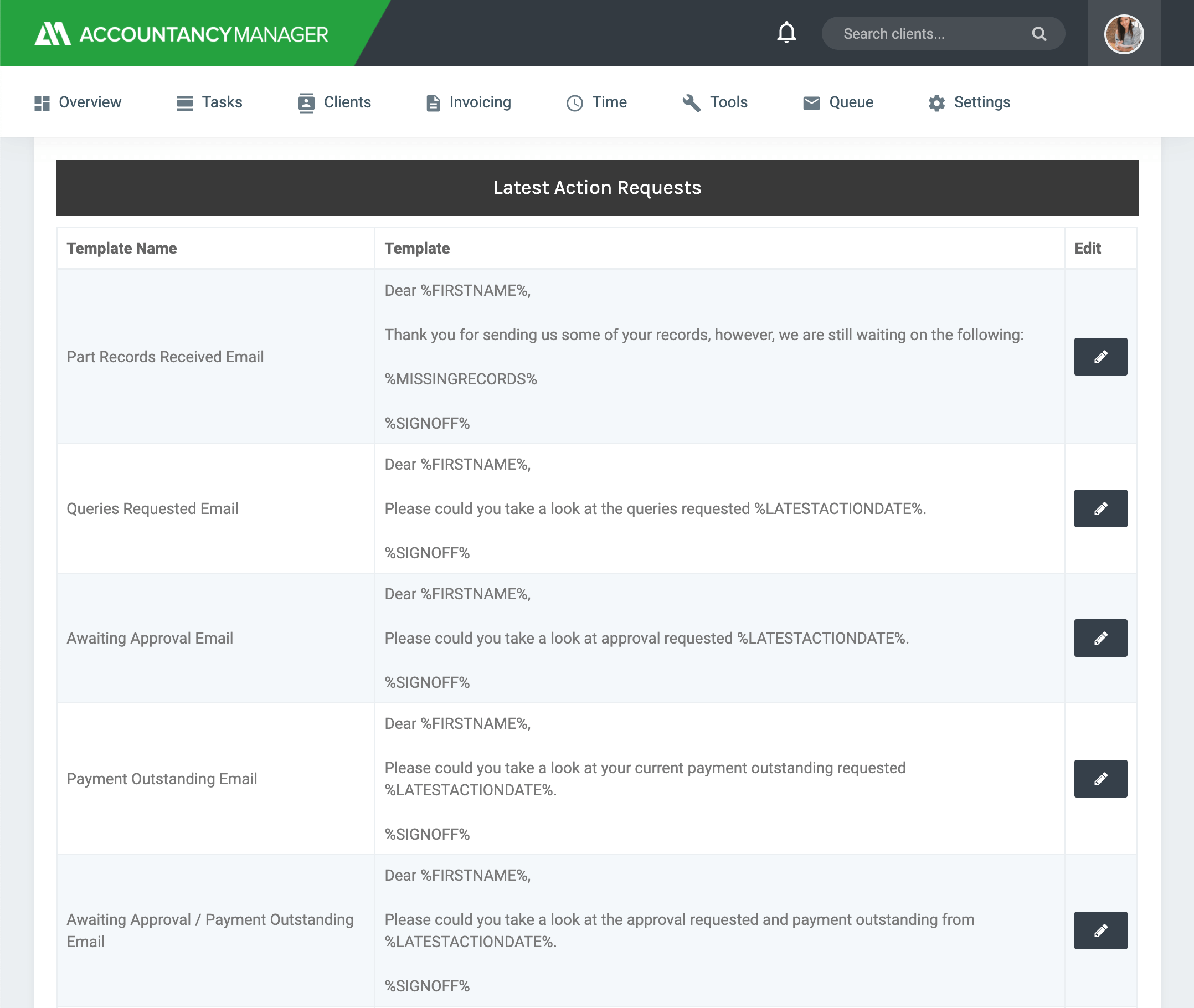 Gather everything you need
Create email templates for each service - just once. Then AccountancyManager will send these at the right time, to the right clients. We've saved a few default templates for you, but you can edit them and create your own.
"The time saved with automatic chasing means that we have more time available for our clients."
— Sharon Bishop ACCA, X5 Accountants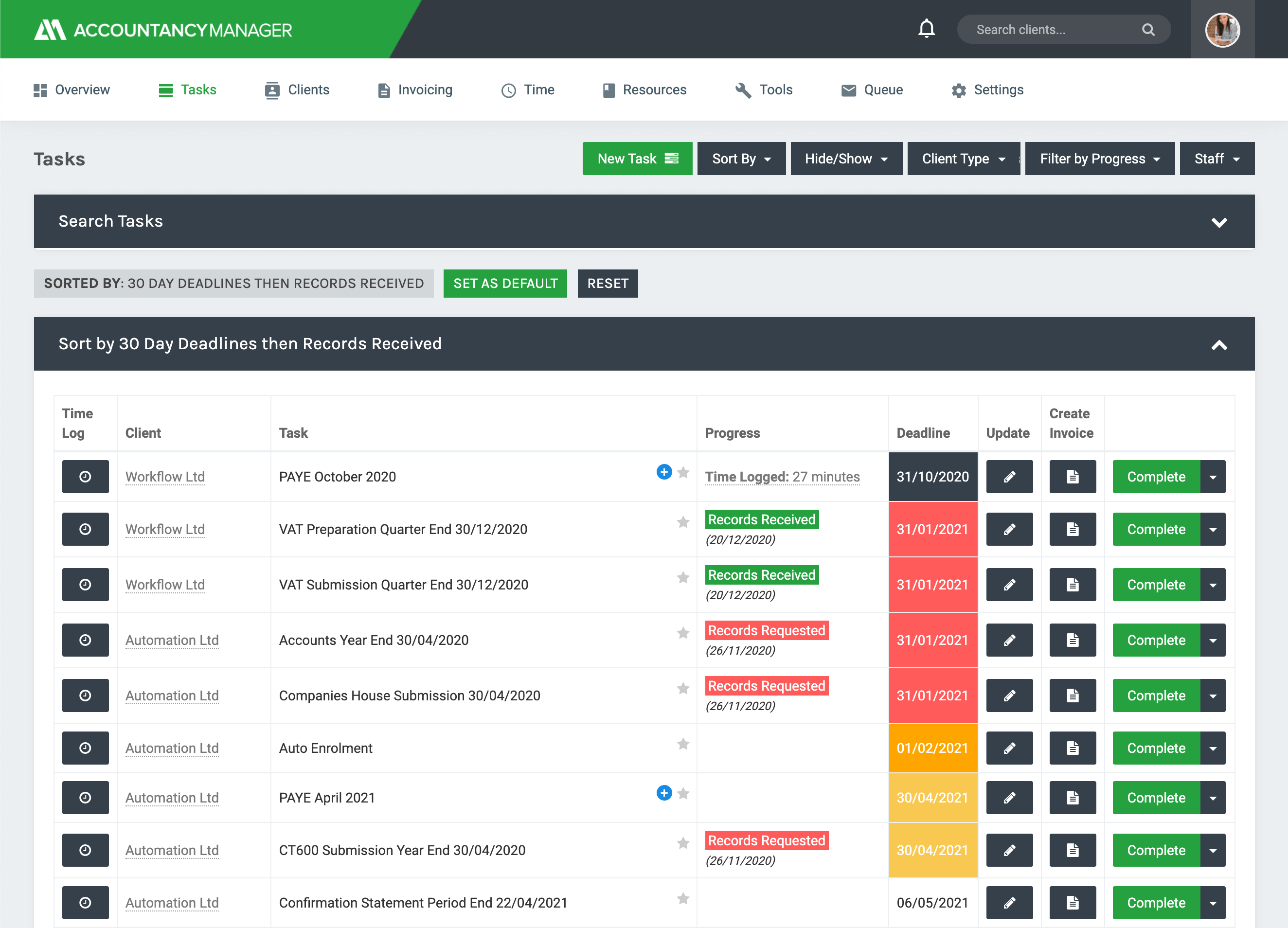 Never miss a client deadline
Client deadlines are pulled through the Companies House integration - or entered manually. When a task reaches its period end date, AM will send the automatic record request for that service. And later, a tax payment reminder.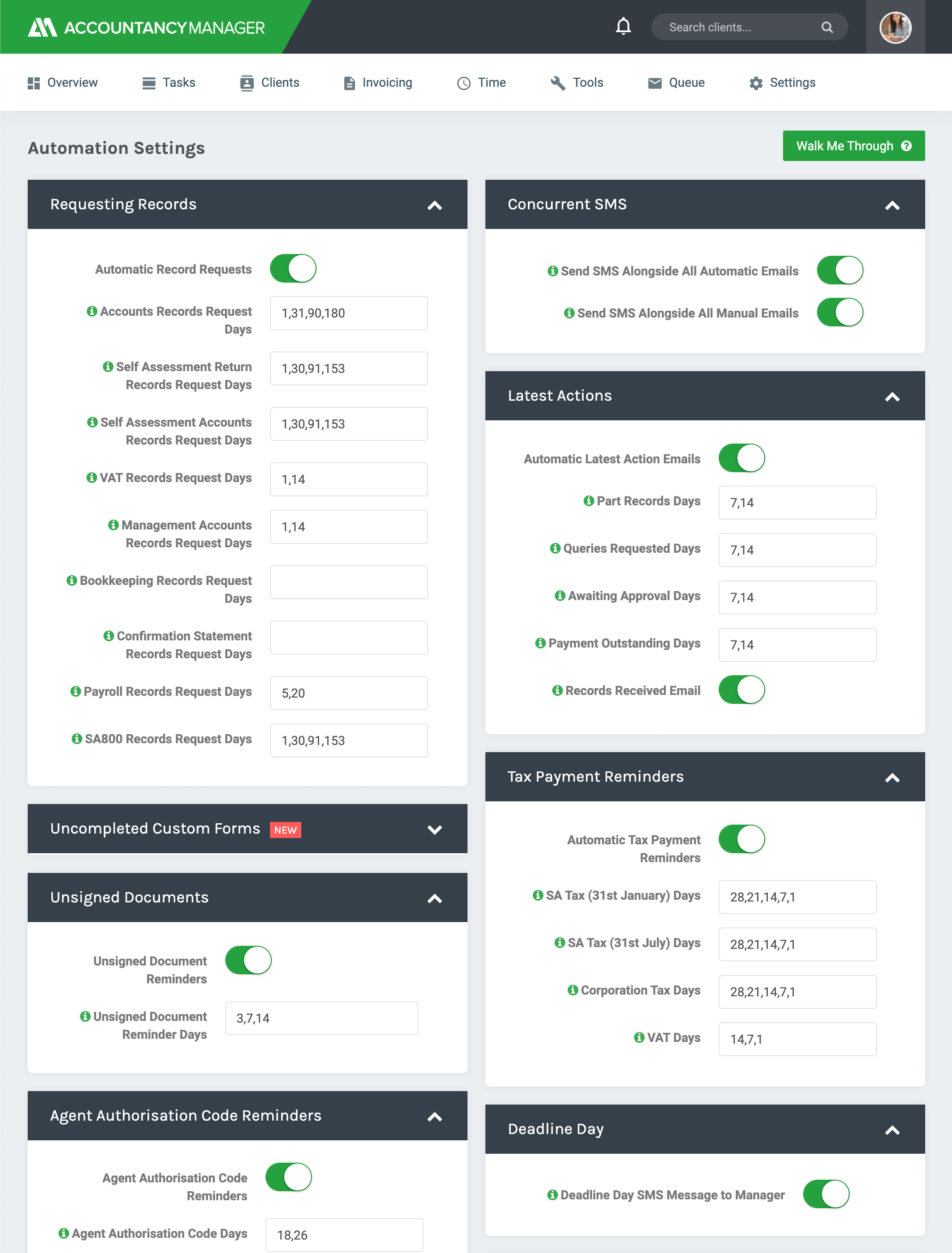 Say goodbye to chasing clients
Just tell the system when and how often you'd like to send nudging emails and you don't need to think about it again. When you have what you need, update the progress status. This stops any further emails.
Send highly tailored messages
AM populates client details, such as their name, filing dates and tax amount to pay.
Save paragraphs you use regularly and just grab them when you need them.
AM can chase for specific missing details, signatures and forms.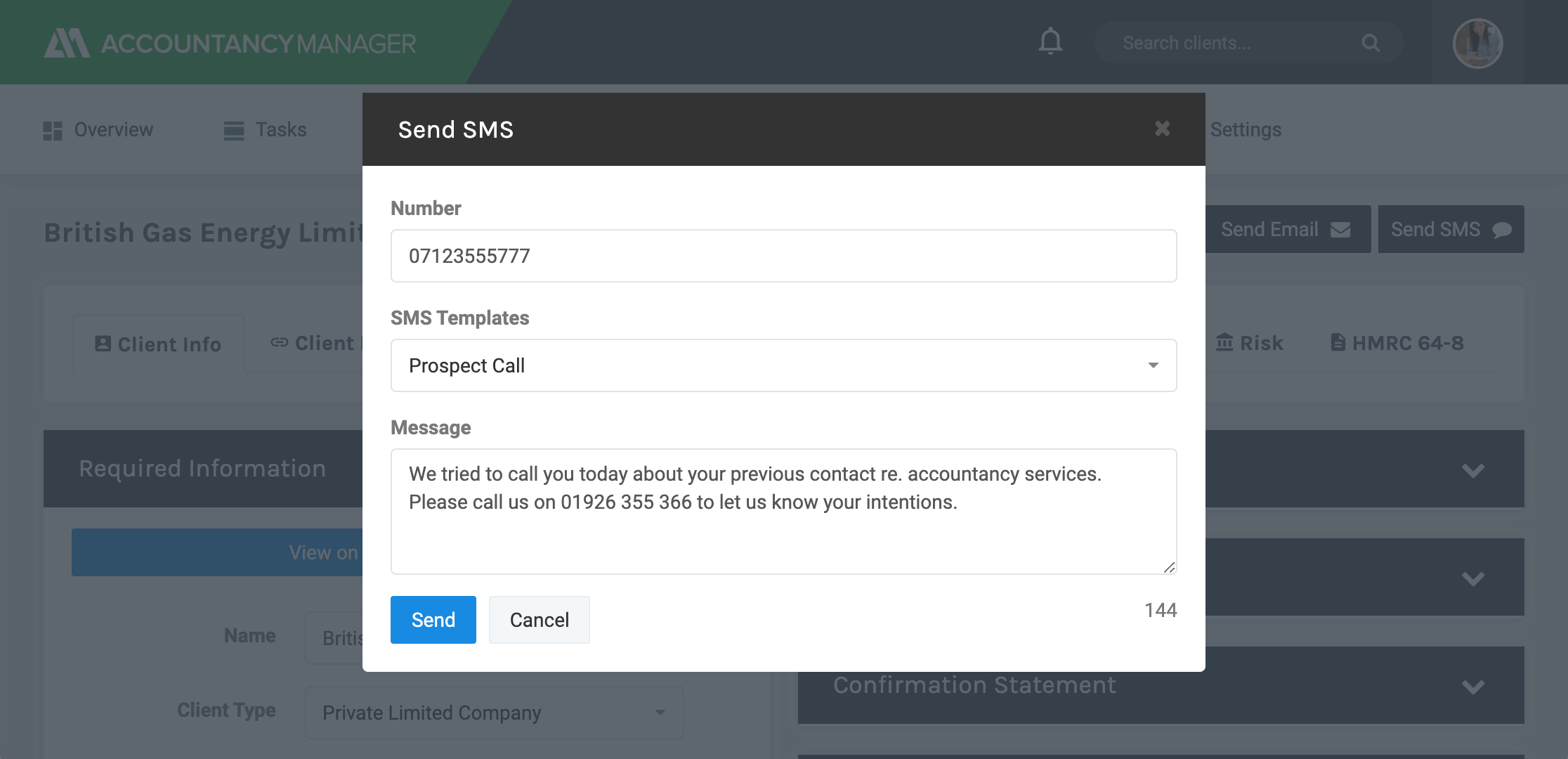 Get a faster response by sending a text
Many AM users report a much faster response from clients when they send texts. A text will let your client know there's an email waiting for them - or link directly to their portal.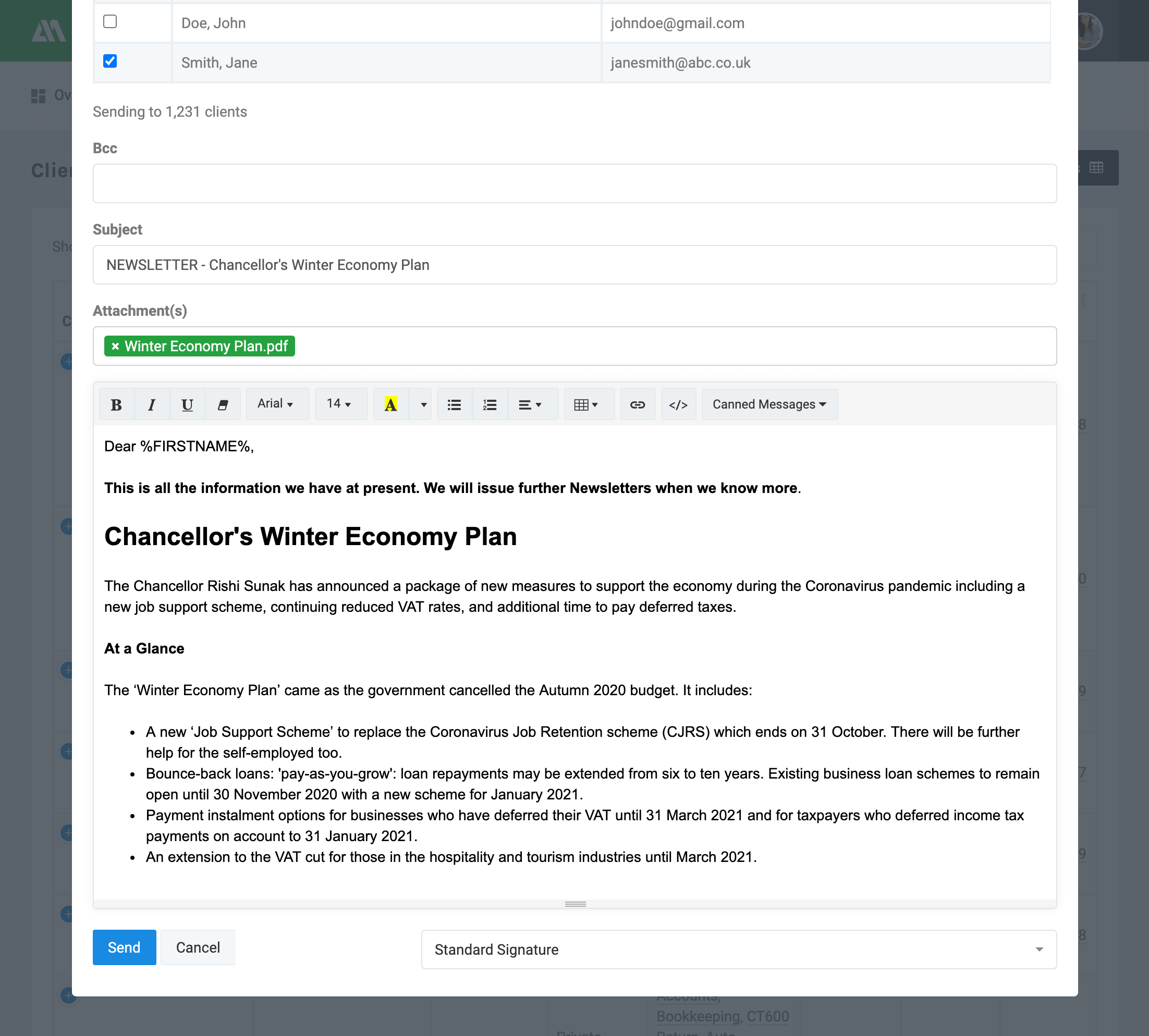 Bulk emails & SMS: Keep in touch with everyone
Create your email or SMS once and AM will send it to all your clients. Even better, you can filter by any field in AM, tailoring the recipients to specific groups or types of clients.
Save hours of time with intelligent automation
Two-factor authentication
Bulk emailing
Missing info reminders
Tax payment reminders
Companies House integration
Emails listed on client's timeline
Canned messages
40+ templates ready to go
"AM completely revolutionised my practice overnight. I used to spend hours preparing..."
Find out how AM revolutionises practices by signing up today.
Sign up
What Our Customers Say
"We started using AccountancyManager in 2018 and haven't looked back! Using AccountancyManager has transformed our practice - more time to spend on the numbers and admin processes streamlined - one happy practice!"