App Stack, App Map, App Flow… call it what you like, combinations of integrated apps is a hot topic right now – and rightly so.
All the apps covered here save you time and make life easier for you and your clients. It's when you combine them that the real magic happens. Powerful automation (within apps and between them) and an unbroken chain of real-time data flowing from your client's business, through your practice.
We'll show you our app stack, if you show us yours…
With 700+ apps available to accountants and bookkeepers, you'd be forgiven for being a bit confused. In fact, that's exactly why Dan Cockerton founded the Digital Accountancy Show. We put this map together with Dan to show some of the best apps out there in 2020 and how they work together.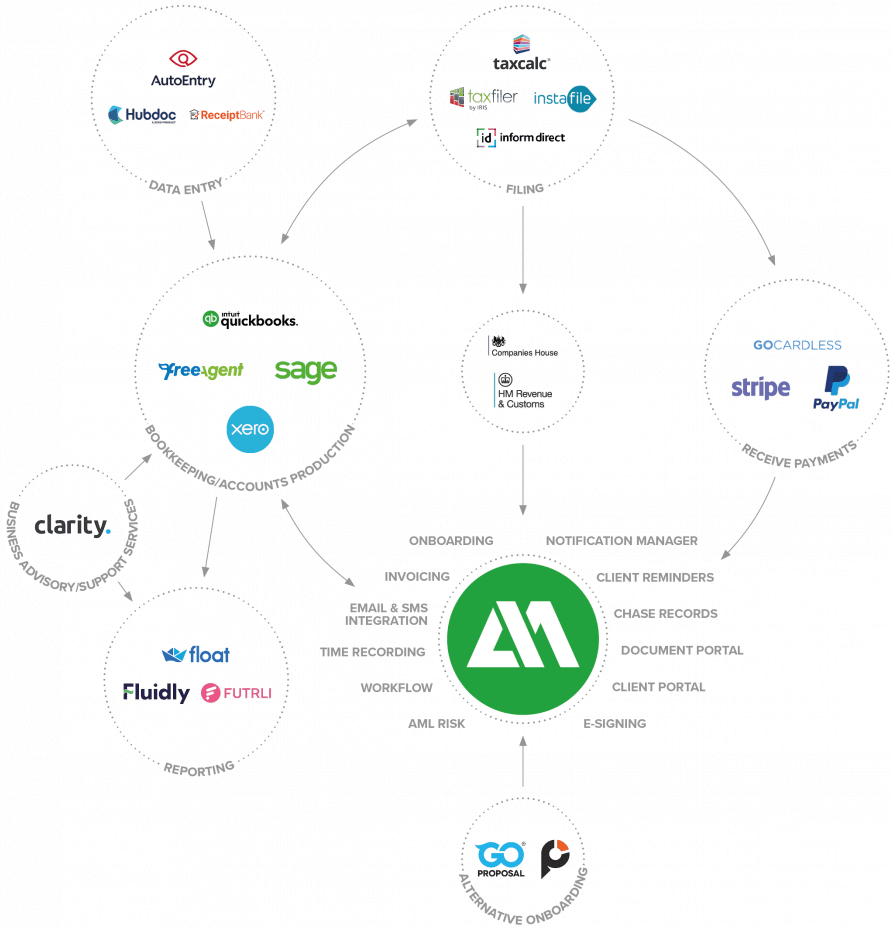 AccountancyManager
As a practice management software, AccountancyManager sits at the heart of your practice – and effectively your software ecosystem. AM was born out of a busy accountancy practice, designed to automate as much of your processes as possible and save considerable time.
Starting with onboarding, AM automates your proposals, letters of engagement, 64-8s, professional clearance, AML ID and credit checks and client chasing. Moving on to your clients' accounts and returns, AM requests and reminds your clients to provide their records with automated emails and texts, generates task lists for everyone in your practice and offers time and profitability tracking. There's a secure client portal where you can share documents with your clients and get e-signatures too. Finally, AM automates your invoices, which can be integrated with your accounting software.
On top of all this, AccountancyManager keeps your whole team connected and updated with messaging and in-system notifications.
AM's integrations with HMRC and Companies House
AccountancyManager integrates with HMRC so you can complete and submit your 64-8 Agent Authorisations entirely within AM.
Our integrations with Companies House and CRO automatically pull through all your clients' period end and deadline dates into AccountancyManager. These dates control your practice's internal automated tasks and the automated record request emails to your clients.
AccountancyManager will automatically check CH/CRO for updates and your client can check these dates anytime in their online portal. When you onboard a new client, you can automatically populate their business details using the Companies House/CRO integration too.
See the 'Bookkeeping/accounts production' section below to find out about AM's integrations with Xero, Sage, QuickBooks and FreeAgent.
Alternative onboarding apps
Initial meetings with new prospects are all about getting to know them – and getting them excited about your new partnership. But unless your proposal and letters of engagement follow soon after, you risk losing the deal.
Practice Ignition and GoProposal
Using an app like Practice Ignition or GoProposal (or AccountancyManager's onboarding feature), you can agree fees with your client and generate a proposal in that first meeting. Each system automates the process of writing and sending letters of engagement and terms – and allows your client to e-sign their documents. It's no surprise that all three systems are the result of an accountant and software developer combining forces.
As well as saving time and streamlining the whole process, GoProposal and Practice Ignition help you maintain consistent and profitable pricing.
Bookkeeping/accounts production apps
Asking a bookkeeper or accountant which accounting software they use is akin to asking a football fanatic who they support, the enthusiasm is palpable. And quite rightly so, these softwares have arguably transformed SMEs and the accountancy industry more than any others.
Xero, Sage, QuickBooks and FreeAgent
When your client uses Xero, Sage, QuickBooks or FreeAgent to run their business, you can access their finance records in real time. So you can collaborate in the same system, check data and easily file your clients' accounts with HMRC through integrated filing software (see below).
AccountancyManager's integrations with bookkeeping/accounts production apps
We currently integrate with Xero and FreeAgent, with the QuickBooks integration nearing completion. The Xero and QuickBooks integrations are 'two-way sync' which means you can sync client details and invoices from AccountancyManager to Xero and QuickBooks – and vice versa. With FreeAgent, data is synced one way: FreeAgent into AM. This also means any updates your clients make to their details in their accounting software will update AccountancyManager. You'll get a notification to double-check the new details.
These integrations save considerable time entering duplicate data in two places and bring everything under one roof: your client details, daily tasks and time tracking, invoices and automated client chasing.
Data Entry
Gone are the days of manually entering thousands of receipts into the computer. Now, thanks to data capture tools, you or your clients can simply scan documents and receipts and share the data.
Receipt Bank, AutoEntry and Hubdoc
These systems extract data from receipts, bills, invoices and bank statements and push the data through to your cloud accounting software (such as Xero, QuickBooks etc.). Your clients can use a mobile app to capture data on the go.
"Hubdoc and Receipt Bank now have the 'auto fetch' functionality, so if you're using online portals, these products will go in and collect invoices and bring them into Xero etc. each month"

Dan Cockerton, Founder of Digital Accountancy Show
The more up to date these feeds are, the more powerful other related apps will be – reporting, cashflow forecasting and advisory for example.
Business advisory/support services
For years it seems, accountancy practices have been asking the same question: how can we market and offer commercially viable, profitable advisory services that deliver real value to the client? As more practices move towards a combined compliance and advisory offering, expect this group of apps to increase dramatically.
Clarity
Getting in early to this space is Clarity, a business advisory platform that 'bridges the gap between business owners and their advisors'. Using Clarity, you can help your clients understand their numbers, create a better business and access the cash, funding and investment they need to grow.
Usually, only senior members of your practice will offer advisory services, so only a few lucky clients can afford it. With Clarity, advisory becomes accessible to more junior staff and scalable across more clients.
"Clarity, in effect, gives 100% of your clients some element of business advisory, which can be delivered by 100% of your team."

Sam, Clarity
Reporting
Cashflow forecasting couldn't be more important right now, with millions of UK businesses tentatively emerging from lockdown. With a range of intelligent apps available, your clients can bin their spreadsheets and you can offer highly informed business development advice.
Float, Fluidly and Futrli
All three of these apps offer cashflow forecasting, scenario planning, goal setting and reporting. Integrations with payment software (such as GoCardless) and accounting software (such as Xero), provide Float, Fluidly and Futrli with real-time financial data.
Gareth Pew from Fluidly was another guest on our webinar.
"We don't purely focus on cashflow forecasting, we break it down into three key areas. One is the cashflow forecast, two is credit control, three is funding. Three service lines for our partners and three ways to add value for their clients"
Receive payments
As Marios from GoCardless puts it: Cashflow reports and forecasts might be important, but you can't do any of that (or survive as a business) without the cash itself.
GoCardless, Stripe and PayPal
Payment apps make it easy for you – and your clients – to receive either one-off or recurring payments from customers and clients. These apps integrate with your accounting software cashflow forecasting apps.
More than simply collecting cash, payment apps have been integral to the recent shift to monthly billing across accountancy and beyond. Especially over at GoCardless:
"GoCardless is the world's first global recurring payments platform. While we are focussed primarily on recurring payments, we do still have the ability to process one-off payments just as easily"

Marios, GoCardless
Filing
We end by coming full circle – to the software that helps you produce and submit your clients' tax returns and accounts for HMRC and Companies House.
TaxCalc, Taxfiler, Instafile and Inform Direct
Thanks to integrations between these apps, your clients accounting and payments software, and HMRC and Companies House, there's an unbroken chain of up-to-date, accurate data flowing from your client's business, to the end point – submission.
Once you've completed your client's filing, tick 'complete' in AccountancyManager and the required tasks for the next period end will automatically generate in your task list. And the cycle begins again.
—
We hope this has helped shed some light on the complicated world of integrated app ecosystems – but also excited you about the possibilities.
If you want something a bit more interactive, check out the App Stack Builder from App Advisory Plus, where you can create and save app stacks. Sign up for a free App Advisory Plus account to have a go.
Tell us about your favourite combination of apps on Twitter @accountancymgr